Do lithium ion batteries need a special charger?
You can use a lead acid charger on a lithium battery if you want, HOWEVER, you must NOT use a lead-acid charger if it has an automatic "equalisation mode" which cannot be permanently turned off
What kind of charger does a lithium-ion battery use?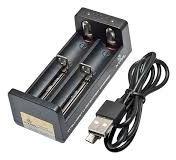 Lithium batteries require a Constant current/Constant voltage (CC/CV) charge type with simple Bulk, Absorption, Float stages. Many lead acid chargers have desulphation and equalisation stages built in, which will pulse high voltages of 15.3-15.8V into the battery.
Can I use a trickle charger on a lithium battery?
It is important to note that trickle charging is not acceptable for lithium batteries. The Li-ion chemistry cannot accept an overcharge without causing damage to the cell, possibly plating out lithium metal and becoming hazardous. Float charging, however, is a useful option
Electronic conditions for lithium ion battery charging
In terms of the electronics for the process, charging lithium ion batteries is very different to charging Ni-Cads or NiMH batteries. It is not possible to use the same electronic circuits to charge them for a variety of reasons.
The charging lithium ion batteries is voltage dependent rather than current based. In this way, the charging of lithium ion batteries is more akin to that of lead acid batteries.
One of the differences with charging lithium ion batteries is that they have a higher voltage per cell – around 3.7 to 4 volts per cell as opposed to 1.2 volts.l
Lithium ion cells also require much tighter voltage tolerance on detecting full charge and once fully charged they do not allow or require to be trickle or float charged. It is particularly important to be able to detect the full charge state accurately because lithium ion batteries do not tolerate overcharging. They over-heat and this reduces their life but in extreme circumstances it can lead to them catching fire of even exploding
keep in touch with our social media links as mentioned below
Mifratech Note : Find the best solution for electronics components and technical projects  ideas
Contact for more information : [email protected] / 080-73744810 / 9972364704
mifratech instagram : https://www.instagram.com/mifratech/
mifratech twitter account : https://twitter.com/mifratech
https://www.mifratech.com/public/
https://www.mifratech.com/public/
https://www.facebook.com/mifratech.lab
#bestelectroniccomponentsnearme #bestcomponentsshoparoundme #topeelectroniccomponentsshop
#lcdinterfacingwithaurduinouno #lcdinterfacingwithnano #lcdinterfacingwithnodemcu #lcdinterfacingwithraspbeerpi #lcdinterfaingwithnodemcuinbreadeboard #microsdcardmodule
#allengineeringstudentsprojectscomponentsavailable #wholesalepricecomponents #allelectroniccomponentsavailable #bestpricecomponentsstore #allroboticcomponentsavailable #allelectronicscomponentsavailablelike #ARDUINO UNO #RASPBERRYPI #ESP32 #ESP8266 #RFIDMODULERC522 #4X4KEYPAD #microsdcardmodule #cp2102 #arduinopromini #nodemcu #drivercircuit #vibrationsensor #rainsensor #bmp180 #bmp280interfacingwitharduino #ADXL335ACCELEROMETER #soundsensor #5voltsadapter #12voltsadapters #wifismartcamera #moistersensor #watersensor #eyeblinksensor #ultrasonicsensorhcsr04 #currentsensor #voltagesensor #ecgsensormoduleAD8232 #PIRsensor #IRsensor #irproximitysensor #DS18B20tempraturesensor #dht22tempraturesensor #dht11temperaturesensorandhumiditysensor #flamesensor #touchsensor #fluxsensor #allsensorsavailablesofthisstore #9voltsbattery #9voltsbatteryclip #lithineumbatterycell #3.7lithiniumbattery #duresellbattery #16x2LCDdisplay #20x4LCDdisplay #I2Cmodule #LCDkeypadshield #DC-DCconverter #ultrasonicholder #0.98OLEDdisplay #rotaryencoder #12voltsbuzzer #5voltsbuzzer #gassensor #metaldetectorsensor #1channelrelaymodule #2channelrelaymodule #4channelrelaymodule #8channelrelaymodule #16channelrelaymodule #allvaluesofresistor #allvaluesofcapacitors #allvaluesofmosfet #allvaluesofIC`s #3mmleds #flowratesensor #pumpsensormodule #allvaluesofdcmotors #bomotors #bowheels #roboticmotors #roboticwheels #roboticchassis #roboticclamps #roboticscrow #allkindofroboparts #jumperwires #generalpurposewire #solderingirin #solderinglead #solderingflux #multimeter #glowgun #glowstick #cutter #tipesofpushbutton #slidebutton #onofbutton #tongleswitches #alltypesofswitches #alltypesofarduinocables #alltypesofcables #allsizeofsolarpanels #scrowdriverset #complatelyelectroniccomponentsstore