The LM317 is an adjustable 3−terminal positive voltage regulator capable of supplying in excess of 1.5 A over an output voltage range of 1.2 V to 37 V. This voltage regulator is exceptionally easy to use and requires only two external resistors to set the output voltage.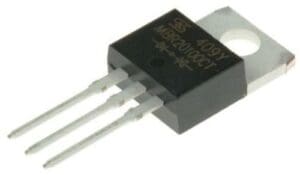 Specifications:
| Symbol | Parameter | Value | Unit |
| --- | --- | --- | --- |
| Vout | Output voltage range | 1.25  – 37 | V |
| Vin – Vout | Voltage differential | 3  – 40 | V |
| TJ | Operating junction temperature range | 0 – 125 | °C  |
| IO(MAX) | Maximum output current | 1.5 | A |
| IL(MIN) | Minimum load current | 3.5 mA typical, 12 mA maximum | |
| PD | Power dissipation | Internally Limited | W  |
| RθJA | Thermal resistance, Junction to ambient | 80 | °C/W  |
| RθJC | Thermal resistance, Junction to case | 5 | °C/W |
Operation:
As linear regulators, the LM317 and LM337 are used in Dc to Dc converter applications.
Linear regulators inherently waste power; the power dissipated is the current passed multiplied by the voltage difference between input and output. A LM317 commonly requires a heat sink to prevent the operating temperature from rising too high. For large voltage differences, the power lost as heat can ultimately be greater than that provided to the circuit. This is the tradeoff for using linear regulators, which are a simple way to provide a stable voltage with few additional components. The alternative is to use a switching voltage regulator which is usually more efficient, but has a larger footprint and requires a larger number of associated components.
In packages with a heat-dissipating mounting tab, the tab is connected internally to the output pin which may make it necessary to electrically isolate the tab or the heat sink from other parts of the application circuit. Failure to do this may cause the circuit to short.
LM317 Voltage Regulator Circuit: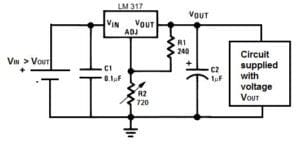 In this circuit, we add a DC voltage supply to the VIN pin of the regulator. This is the pin which, again, receives incoming voltage which the chip will then regulate down. The voltage which enters this pin must be larger than the voltage it is feeding out. Remember, voltage regulators are just devices that regulate voltage down to a certain level. They do not and cannot create voltage on their own. Therefore, in order to a get a voltage, VOUT, VIN must be greater than VOUT. In this circuit, we want a regulated 5VDC as output. Therefore, VIN must be greater than 5 volts. Generally, with regulators, unless they are low drop out regulators, you want the input voltage to be about 2 volts higher. So therefore, since we want 5 volts as output, we will feed into this regulator 7 volts.
Now that we've dealt with the input pin, we must now deal with the adjustable pin (Adj). This is the pin which allows us to adjust the voltage to the level we want. Since we want 5 volts to be output, we must calculate which value of R2 will yield an output of 5 volts. Using the formula for the output voltage, VOUT= 1.25V (1 + R2/R1). Being that R1=240Ω, our equation is now 5V= 1.25V (1 + R2/240Ω), so R2=720Ω. So with R2 being a value of 720Ω, the LM317 will output 5V if fed an input voltage greater than 5 volts. If you need to calculate output voltages or which resistor R2 value you would need for a circuit.
The last pin of the LM317 is the output pin. This is where the regulated voltage (in this case, 5 volts) will come out. To feed a circuit the regulated 5 volts, we just connect it to the output pin.
Note : Find the best solution for electronics components and technical projects  ideas
keep in touch with our social media links as mentioned below
Mifratech websites : https://www.mifratech.com/public/
Mifratech facebook : https://www.facebook.com/mifratech.lab
mifratech instagram : https://www.instagram.com/mifratech/
mifratech twitter account : https://twitter.com/mifratech
Contact for more information : [email protected] / 080-73744810 / 9972364704
#bestelectroniccomponentsnearme #bestcomponentsshoparoundme #topeelectroniccomponentsshop #lcdinterfacingwithaurduinouno #lcdinterfacingwithnano #lcdinterfacingwithnodemcu #lcdinterfacingwithraspbeerpi #lcdinterfaingwithnodemcuinbreadeboard #microsdcardmodule #allengineeringstudentsprojectscomponentsavailable #wholesalepricecomponents #allelectroniccomponentsavailable #bestpricecomponentsstore #allroboticcomponentsavailable #allelectronicscomponentsavailablelike #ARDUINO UNO #RASPBERRYPI #ESP32 #ESP8266 #RFIDMODULERC522 #4X4KEYPAD #microsdcardmodule #cp2102 #arduinopromini #nodemcu #drivercircuit #vibrationsensor #rainsensor #bmp180 #bmp280interfacingwitharduino #ADXL335ACCELEROMETER #soundsensor #5voltsadapter #12voltsadapters #wifismartcamera #moistersensor #watersensor #eyeblinksensor #ultrasonicsensorhcsr04 #currentsensor #voltagesensor #ecgsensormoduleAD8232 #PIRsensor #IRsensor #irproximitysensor #DS18B20tempraturesensor #dht22tempraturesensor #dht11temperaturesensorandhumiditysensor #flamesensor #touchsensor #fluxsensor #allsensorsavailablesofthisstore #9voltsbattery #9voltsbatteryclip #lithineumbatterycell #3.7lithiniumbattery #duresellbattery #16x2LCDdisplay #20x4LCDdisplay #I2Cmodule #LCDkeypadshield #DC-DCconverter #ultrasonicholder #0.98OLEDdisplay #rotaryencoder #12voltsbuzzer #5voltsbuzzer #gassensor #metaldetectorsensor #1channelrelaymodule #2channelrelaymodule #4channelrelaymodule #8channelrelaymodule #16channelrelaymodule #allvaluesofresistor #allvaluesofcapacitors #allvaluesofmosfet #allvaluesofIC`s #3mmleds #flowratesensor #pumpsensormodule #allvaluesofdcmotors #bomotors #bowheels #roboticmotors #roboticwheels #roboticchassis #roboticclamps #roboticscrow #allkindofroboparts #jumperwires #generalpurposewire #solderingirin #solderinglead #solderingflux #multimeter #glowgun #glowstick #cutter #tipesofpushbutton #slidebutton #onofbutton #tongleswitches #alltypesofswitches #alltypesofarduinocables #alltypesofcables #allsizeofsolarpanels #scrowdriverset #complatelyelectroniccomponentsstore  #partsstorenearmeopen
#rvpartsstorenearmeopentoday #appliancepartsstorenearmeopennow
#electronicpartsstorenearmeopennow
#appliancepartsstorenearmeopentoday
#are there any auto parts stores open
where to buy cheap pc components
where can i buy cheap pc parts
where can i buy mini robotic components
where to buy cheapest pc components
electrical and electronics components shop near me electrical components buy online Best price electronic components store, all engineering students projects components by mifraelectronics , all robotic parts available all project components available like Arduino Uno ,Arduino NANO, raspberry pi, ESP32, ESP8266 , ESP32 WITH CAM, all values of resister all values of capacitor all values of sensors like flame MQ 7 GAS SENSER sensor, ultrasonic sensor, voltage sensor , current sensor, ECG sensor module (AD8232), ir sensor, touch sensor, DHT11, DHT22, FLUX SENSOR, AND LCD'S RELAY'S AND ALL VALUES OF IC'S all kinds of electronic components available by mifraelectronics best for online and offline services and best for price.